Remember how I mentioned I can be a little bit faddish? Another fad has bitten the dust.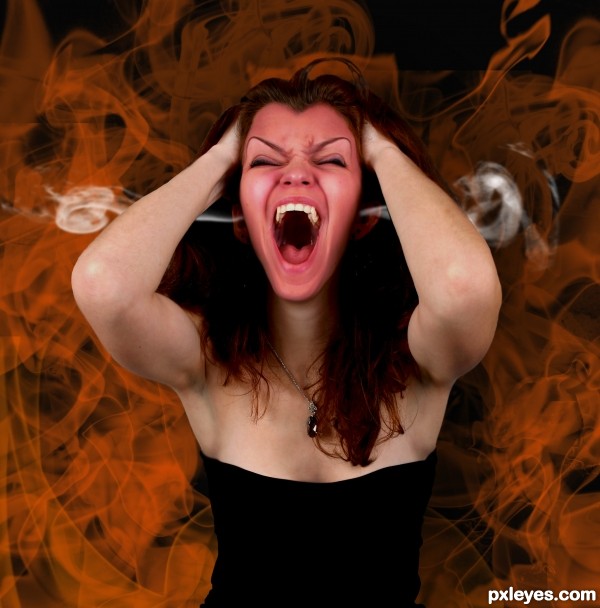 Hell hath no fury like a woman caught
up in the French house-buying process.
So, we got back from Ooh La La Land and I did indeed manage to persuade The Boy to pursue one of the properties. The owner of the house we really loved was English so we reckoned we knew what we were dealing with and we played hardball for a couple of weeks, starting with a silly offer but intending to meet his negotiated price if we had to. I really hate to say I told you so but when the owner finally accepted an offer for the amount he had made clear he always wanted and from someone who didn't increase their offers in €50 increments, I bellowed I TOLD YOU SO! and then didn't speak to The Boy for the rest of the day. Unfortunately we were due to meet in Trafalgar Square at 5.30 to go for an anniversary drink and meal (this is the anniversary that I forgot and he remembered in a very good example of complete role reversal). We met, me still slowly emitting steam from my ears, and he asked me to suspend my fury. I couldn't not really - it turned out he had arranged a surprise birthday meal for the friends who can't come to my actual surprise birthday meal next weekend. With The Boy fully redeemed we are now back on speaking terms and have thoroughly suspended the idea of a French house.
And so to the evening next weekend that I don't know anything about. I know I'm having one because a good friend copied me in on his reply to The Boy's invitation email entitled "Boo's Surprise Birthday Party". Normally curiosity would have got the better of me but I actually deleted it without reading it. I almost wish I didn't know anything at all about it because being in the dark has given me a sartorial planning nightmare. At first it was going to be a little black dress which I last wore when I was 30 but I would need suck-it-in pants and they only serve to spew the fat out elsewhere like under your armpits or as a third breast. Then it was going to be a a lovely blue dress I got that I thought was pretty cool but a friend ordered me not to wear it with the warning words " You're turning 40, not 50" and " we all know you have 3 kids but you needn't dress like it ". (Sometimes you need a blunt-talking mate). Now it's going to be my favourite best jeans (which I bought when I was 30), a new top and some impossibly high snakeskin heels. My justification for these is simply that I remember opening the under stairs cupboard when I was about 6 and finding a pair of identical ones (mum's not dad's). Given I don't have my mum I think it is only right that I replicate her choice of footwear. She would want me to, I know.
So, 10 days till I turn 40. 10 days to eat protein only and run 70 miles, wrapped in clingfilm or 10 days to give in gracefully and admit that it's about to happen and I don't even have time to get my teeth whitened.